Concerned Friends forum: "I've been fighting for our quality of life for the past 4 years."
Oct. 10, 2022
You can watch Mayor Lednovich at the Concerned Friends of Fernandina Candidates forum at this link:
Candiate forum: Lednovich "We must protect Fernandina beach's quality of life."
Aug. 8, 2022
The City's Youth Advisory Committee hosted the opening 2022 City Commission Candidate forum at City Hall. Here is the link to watch Mayor Lednovich along with the three other candidates for Seat 4.
https://fernandinabeachfl.new.swagit.com/videos/178458
Mayor spearheads vote to have $2.4 million garbage contract put out for bid
June 4, 2022
The city of Fernandina Beach will request bids for garbage and recycling services rather than enter into talks to extend its current contract with Waste Management.
Mayor Mike Lednovich said the city should make sure it is getting the best deal it can.
"As elected officials and representatives of the taxpayers of this city, it is incumbent upon us to place a $2.5 million project for bid," Lednovich said. "Otherwise, we are acting blindly. We may come back to WM, not only based on price but based on service as well. But any time we have a contract, you always put it to bid. Always. That way you are comparing apples to apples. By just negotiating with one vendor, you don't know the possibilities. We should know the possibilities and our choices and make our decision. That is what I feel we were elected to do."
Mayor seeks County funds to offset costs of City sports facilities
June 4, 2022
The issue has been discussed by the City Commission, and Mayor Mike Lednovich, at a joint city-county commission meeting, asked county commissioners for $500,000 toward maintenance of sports facilities used by county residents living outside the city. The county declined that request.
"My primary and overriding concern is that we cannot go this alone, and that's what we've been doing," Lednovich said. "It's not even a matter of trying to balance the books, and I accept that, OK, maybe we will be a little bit in the red, but we shouldn't be totally upside down when 60% of the participants are in the county, and the county manager says to raise our fees. We asked them
for $500,000 and the county manager looked me in the eye and said, 'Raise your fees.'"
Since it is the point of the fiscal year when the county is working on its budget, it would be better if the City Commission sent a letter to the county, explaining that non-city residents are taking advantage of city sponsored facilities and asking again that the county contribute. Lednovich said
that such a letter should give specific uses for the money, such as a drainage system at Ybor Alvarez
Lednovich says leave sports fields at Central Park and fund improvements
May 17, 2022
"To me, it's insane to pave over perfectly good recreational facilities that really need to be updated," Mayor Mike Lednovich said. "That's the task before us. We need to … commit money to improvements of the facilities that we have. That's where my focus is, is how do we do that, and to Commissioner (Chip) Ross' point, how do we pay for it?"
Next to a new playground in Central Park — per city Interim Parks and Recreation Director Scott Mikelson's proposal — would be a picnic area. A large pond with an adjacent fountain would take up much of the area presently occupied by four baseball fields and a football field. A multipurpose field would be in the general area of the park's present football field. Mikelson suggested an event platform that could go near the field for community events.
Tennis and pickleball would move to the city golf course, where eight new pickleball courts and six new tennis courts would be installed, with space for growth.

The football and lacrosse field at Central Park would relocate across Hickory Street from Fernandina Beach High School's baseball and softball fields. The baseball fields would move to Ybor Alvarez Sports Complex, which would essentially be redone to accommodate the new fields, parking and support facilities.
Going into the public comment, Commissioner Bradley Bean noted at least four of the five Commissioners agreed to keep the ballfields in their present location. The next step is, once again, figuring out how to provide the necessary upkeep with an appropriate funding source.

"I think it is incumbent upon you as a Commission, and serving the residents of this city, to find a way to pay for these (needed improvements, repairs and renovations)," said Jean Pugh, a member of the city's Park and Recreation Advisory Committee. "And raising the millage is really a disservice to the residents, because what we learned (at the Committee meeting last) Tuesday is two-thirds of these fields are … used by county residents, and city taxpayers are paying that burden."
Mayor backs funding major non-profits for 2022-23
As part of the annual budget process each spring, the City of Fernandina Beach solicits requests for City grants from the local community of non-profit organizations (NPO). Each year there are more requests for financial assistance than there is funding to distribute.
The NPOs the City funded in the current fiscal year include: Barnabas Center ($30,000), Micah's Place ($5,000), Nassau County Council on Aging ($50,000), and Starting Point Behavioral Healthcare ($15,000).
"I've always been troubled by the way we fund NPOs, because we create winners and losers," Lednovich said. "By telling all the NPOs to apply for City grants is raising their expectations, and there is no equity system in which to fund them. We end up funding the same [five] organizations, which are justified and should be funded. My position is, if we keep this item in the budget, let's fund those [five] organizations and not open the door inviting all NPOs to apply for funding. We will further this debate when we tackle the budget."
Tuesday, April 19, 2022 11:27 AM
News from the Mayor
Proposed $20 Bond vote fails, Mayor votes 'no'
April 19, 2022
The Fernandina Beach City Commission by a 4-1 vote did not move forward with
asking taxpayers to approve a bond to pay for potential projects that include
improvements to downtown infrastructure and making the Amelia River waterfront more resilient to flooding.
City taxpayers recently paid off a bond that financed the purchase of the Egans Creek Greenway, along with other miscellaneous projects. The City Commission had discussed, at its visioning session earlier this year, asking voters to approve another bond. Several projects were considered to be funded with
the proceeds from the bond, such as renovating City Hall, stabilizing the Amelia River waterfront, a walking trail project and downtown revitalization. Both the resiliency project and downtown revitalization had a price tag between $15 million and $20 million
Lednovich supports more money in the budget for City roads
At a Fernandina Beach City Commission (FBCC) workshop on March 15, 2020, City Commissioner Chip Ross presented his case to fund annual road maintenance at the level recommended by consultants in the 2019 Pavement Analysis Report in order to maintain or improve the 68.7 miles of City roads and streets. Ross cited the road network valuation at $44M, making roads a highly valuable asset of the City that needs to be maintained.
Mayor Mike Lednovich said the City is playing catch up because budgeted spending has been less than needed over the past few years. "I would agree with the Vice Mayor," he said. "Roads are things that everybody uses…. Yes, we have to fund roads. That's at the very top of the list. It shouldn't be a surprise to anybody that our City is at a tipping point."
Mayor opposes City Department transfer increase from $7,500 to $50,000
City of Fernandina Beach staff can move money between different accounts within their specific departments, up to $7,500. They are asking the City Commission to increase that amount to $50,000, but some commissioners think that is too much of an increase.
"This isn't a matter of trust. It's a matter of oversight. This is city taxpayer (money), and we're responsible for holding people accountable for how those beans are spent and how we value those assets. So to go from $7,500 to $50,000 – that's a sixfold increase in one fell swoop. That's a giant leap," Mayor Lednovich said in opposition to the increase.
Mayor honors FOAR From Home veterans epic 3,000 mile Atlantic rowing voyage
The audience in Fernandina Beach City Commission (FBCC) Chambers for the March 15, 2022 FBCC Regular Meeting erupted in applause as Mayor Lednovich read a City Proclamation recognizing the Foar From Home rowing team for their successful completion of the Talisker Whisky Challenge, raising awareness to combat the high rate of Veteran suicide in the United States and fundraising for Veteran post-traumatic stress disorder medical research.

Foar From Home Team members were in at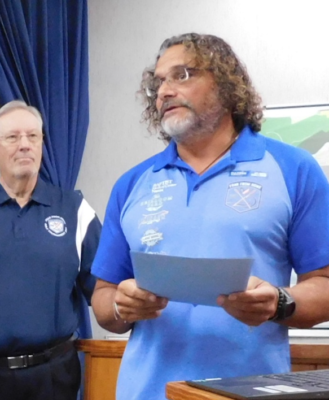 tendance to accept the Proclamation: U. S. Army Veteran Bill Cimino; U.S. Air Force Veteran Cameron Hansen; U.S. Navy Veteran Hupp Huppmann; and U.S. Marine Corps Veteran Paul Lore.
Following the presentation, team spokesman Paul Lore addressed the FBCC and the audience. An emotional Lore delivered remarks reflecting the team's appreciation for all the community support throughout the campaign to raise funds and successfully complete the journey.
"We had a land support team comprised of friends and family and community members," Lore said.
Lore said that initially the team's goal was to raise sufficient funds to train four dogs to help veterans as they struggled to regain civilian life following combat experience. The generosity of businesses and individuals allowed them to surpass their modest goal by raising (to date) $890,000, which will go toward building a kennel and training many more dogs for vets.
The new kennel will produce 64 trained service dogs each year, and greatly reduce the waiting list time for vets to receive their dogs.
He credited businesses large and small who helped finance the effort, but added that most humbling was the grass roots support of almost 300 people who donated from ten dollars to $500 for the cause.
"Everything was generated by a volunteer base," Lore said. "We really feel that Amelia Island and Fernandina went with us on this journey."