News from the Mayor
Proposed $20 Bond vote fails, Mayor votes 'no'
April 19, 2022
The Fernandina Beach City Commission by a 4-1 vote did not move forward with
asking taxpayers to approve a bond to pay for potential projects that include
improvements to downtown infrastructure and making the Amelia River waterfront more resilient to flooding.
City taxpayers recently paid off a bond that financed the purchase of the Egans Creek Greenway, along with other miscellaneous projects. The City Commission had discussed, at its visioning session earlier this year, asking voters to approve another bond. Several projects were considered to be funded with
the proceeds from the bond, such as renovating City Hall, stabilizing the Amelia River waterfront, a walking trail project and downtown revitalization. Both the resiliency project and downtown revitalization had a price tag between $15 million and $20 million
Lednovich supports more money in the budget for City roads
At a Fernandina Beach City Commission (FBCC) workshop on March 15, 2020, City Commissioner Chip Ross presented his case to fund annual road maintenance at the level recommended by consultants in the 2019 Pavement Analysis Report in order to maintain or improve the 68.7 miles of City roads and streets. Ross cited the road network valuation at $44M, making roads a highly valuable asset of the City that needs to be maintained.
Mayor Mike Lednovich said the City is playing catch up because budgeted spending has been less than needed over the past few years. "I would agree with the Vice Mayor," he said. "Roads are things that everybody uses…. Yes, we have to fund roads. That's at the very top of the list. It shouldn't be a surprise to anybody that our City is at a tipping point."
Mayor opposes City Department transfer increase from $7,500 to $50,000
City of Fernandina Beach staff can move money between different accounts within their specific departments, up to $7,500. They are asking the City Commission to increase that amount to $50,000, but some commissioners think that is too much of an increase.
"This isn't a matter of trust. It's a matter of oversight. This is city taxpayer (money), and we're responsible for holding people accountable for how those beans are spent and how we value those assets. So to go from $7,500 to $50,000 – that's a sixfold increase in one fell swoop. That's a giant leap," Mayor Lednovich said in opposition to the increase.
Mayor honors FOAR From Home veterans epic 3,000 mile Atlantic rowing voyage
The audience in Fernandina Beach City Commission (FBCC) Chambers for the March 15, 2022 FBCC Regular Meeting erupted in applause as Mayor Lednovich read a City Proclamation recognizing the Foar From Home rowing team for their successful completion of the Talisker Whisky Challenge, raising awareness to combat the high rate of Veteran suicide in the United States and fundraising for Veteran post-traumatic stress disorder medical research.

Foar From Home Team members were in at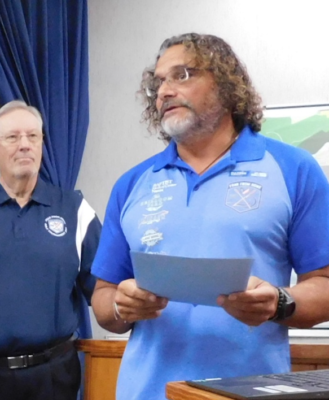 tendance to accept the Proclamation: U. S. Army Veteran Bill Cimino; U.S. Air Force Veteran Cameron Hansen; U.S. Navy Veteran Hupp Huppmann; and U.S. Marine Corps Veteran Paul Lore.
Following the presentation, team spokesman Paul Lore addressed the FBCC and the audience. An emotional Lore delivered remarks reflecting the team's appreciation for all the community support throughout the campaign to raise funds and successfully complete the journey.
"We had a land support team comprised of friends and family and community members," Lore said.
Lore said that initially the team's goal was to raise sufficient funds to train four dogs to help veterans as they struggled to regain civilian life following combat experience. The generosity of businesses and individuals allowed them to surpass their modest goal by raising (to date) $890,000, which will go toward building a kennel and training many more dogs for vets.
The new kennel will produce 64 trained service dogs each year, and greatly reduce the waiting list time for vets to receive their dogs.
He credited businesses large and small who helped finance the effort, but added that most humbling was the grass roots support of almost 300 people who donated from ten dollars to $500 for the cause.
"Everything was generated by a volunteer base," Lore said. "We really feel that Amelia Island and Fernandina went with us on this journey."